Dramatic Structure Diagrams
Dramatic structure diagrams are tricky and confusing. Thousands exist praying different paradigms of narratology. Check out our preferences.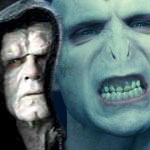 This article is an attempt to help you understand how most stories are structured by their writers.
Narrative structures were not invented, yet, they were observed through time, converging to a natural and innate human pattern.
Narrative structures were not created, yet, they were observed by writing philosophers during antiquity and have been discussed over and over by scholars. They found out that pleasing tales, usually follow a pattern that the human mind accepts and uses to tell stories in a pleasant and understandable way.
Based on the classic period in Greece, we teach our children that a story needs to have a Begining, a Middle and an Ending. That is nothing more than a simplification of the 3-act structure so widely used in stage drama classes all over the western world.
The 3-act model has been around for quite some time and recently a 4-act structure has become more commonly used.
I do not wish to get too technical or even fill your head with times, dates and definitions, but just to fix an idea of how things can be structured. Let's take a look at the following chart.
The chart has a comparison of the two structures that I like the most.
The first paradigm was developed by Christopher Vogler based on the studies initiated by Joseph Campbell and his theory of "The Man with a Thousand Faces".
The other is a modified 4-act structure to facilitate a comparison with the previous.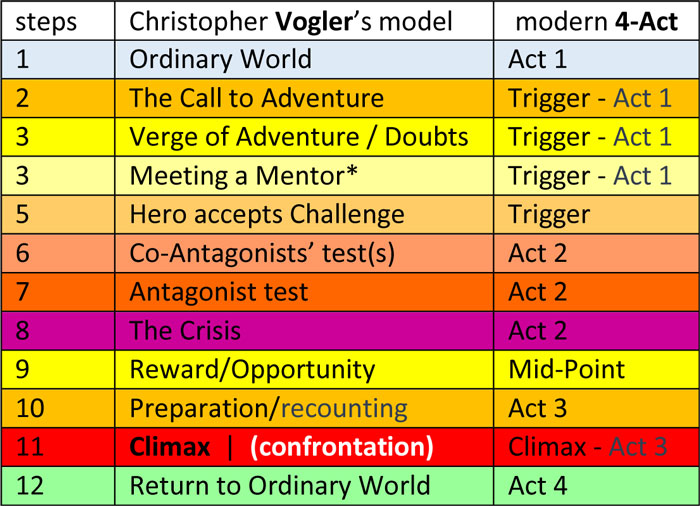 * Meeting with the Mentor can float a little bit. Sometimes it's in the 3rd position. Sometimes even in act 2
The Trigger, also called Point of Attack is a plot point on which a PROBLEM occurs; the protagonist struggles in embarking the solution-journey and then something happens (Inciting Event) that pushes him/her towards the Extraordinary World. Sometimes the trigger is quite fast, and the Hero embarks on the adventure quite quickly.
If you are wondering what a Contagonist (co-antagonist) is, let's just say, for now, that he is the one, or those, who help the Antagonist, or Villain.
Note that some aspects of Act 1 may overlap the trigger, keeping  their functions of presenting new places and characters that are familiar to the Ordinary World.
One other thing that is important to remember is that the Ordinary World can be quite wondrous to us while still very common to the Protagonist. It is an interpretation made from the hero's point of view.
So, the sequence goes like this:
The protagonist and other satellite characters are living "his" normal life in the Ordinary World.

A problem occurs, and he is called to take a position, to help solve that problem. He meets a Mentor that calls him to action. The Protagonist struggles, uncertain if he has the ability for such task, or can accomplish it. An Inciting Action happens and pushes him to enter the Special World (aka, Extraordinary World).

He/She faces a sequence of tests. First from the Villains Helpers/Contagonists, then by the Villain/Antagonist himself. Due to some lack of ability or knowledge, the Hero suffers a major drawback, sometimes almost dying.

Something happens, or is learned, or taught, (by helpers) that brings new strength or knowledge that will make it possible for the Hero to face the Villain, with a much greater chance now.

Either a Preparation Phase, or a Recounting Phase (even both), occurs as a setup fo the next struggle.

A final confrontation takes place. The hero wins (unless it's a tragedy). Antagonist either, dies, or becomes unable to do any harm.

The Ordinary World is restored, but different than before.
If you observe the vast majority of popular and good stories, you will find at least hints of that sequence.
We are trying to use that paradigm in some of our reviews like the ones about J. K. Rowling's Harry Potter series. The link will take you to her mini-bio where you can find a list of the books.
I hope this article changes the way you read books and watch movies and series with a new form of interpretation.
If you want to have some clues about characters, don't miss my article about Archetypes.
Leave a comment with your opinion, plese.
[cta id='1970′]