The Gunslinger by Stephen King, a book review
The Gunslinger by Stephen King book review: Inspired by a poem, King wrote this dark and adventurous novel as the first part of a series.
Our author was inspired by a poem written by Robert Browning in 1855. Over a century later, in the 70's, he compiled this romantic novel telling the story of a gunslinger, Roland of Gilead.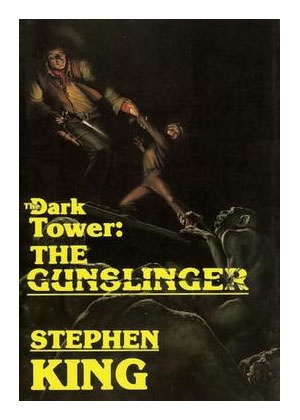 Book
The Gunslinger by Stephen King tells a story about Roland's adventure through and beyond a vast desert in search of a man in black. This novel triggers the Dark Tower series.
In fact, this book is about Roland's quest to catch such man, first step of a higher mission to The Dark Tower. During his journey, Roland meets many characters interesting characters that color up our imagination, sometimes with new doubts, sometimes with clues, eventually with closure.
The Gunslinger by Stephen King, is, in fact, a blend of five short stories developed as a true example of a highly sophisticated blend of Horror, Western, and Science Fiction; A plot about one man chasing another man; Roland of Gilead trying to catch a mysterious man.
Readers will find that this is a never-ending story about a reminiscent member of an order in a mission to rectify a parallel Universe.
Gunslinger comes first in a series by Stephen King that lasted over 30 years to complete. (is it truly completed?)
Unusual Fantasy Author
Stephen Edwin King is a famous horror fiction writer with more than fifty bestseller books. (red mini-bio)
Book Review
The Gunslinger by Stephen King is a true illustration of the author's skills for writing unusual fiction. This book is a relatively short novel and can be finished very quickly.
This book brings us a highly enigmatic hero that readers will love and stick to, from beginning to end.
King has introduced here his most appreciated fantasy characters and, compared to other works in literature, the traditional dilemma of choosing between damnation and salvation comes with a flavor of something never seen before.
Reading this book is indeed an exciting experience. It comes with a compelling opening sentence that sets a wave of curiosity in our minds that makes us eager to find out who is who and what they are about to do in this chase and run plot.
After beginning our reading, we face a puzzle: Is this story about the past, the present, or, even, the future?
King creates an atmosphere similar to the Old West, with a language throws us to the past. However, various subtleties and objects presented in this novel, such as the batteries and the nuclear slug, cause the readers catapult into the future. A constant rollercoaster movement that brings excitement to every page.
The Gunslinger by Stephen King is, in fact, the threshold to an amazingly fantastic world and the successive volumes that come after it take the readers into that magnificent, vibrant and exciting universe.
Following that threshold will lead to a pleasing opportunity: Reading a fabulous and entertaining series.
Recommended for Adults, Teenagers, and mature Kids.
Please, leave a comment about this The Gunslinger by Stephen King article.
The Gunslinger by Stephen King
The Dark Towers
Fiction Adventure Fantasy Science Fiction Western
Scribner
Reprint edition (May 3, 2016) (first compiled in 1982)
hardcover, paperback, kindle, audio
288
mature kids and up.