Back to the Future, the book
Back to the Future, the book is a great any fan of the movie, or newcomer. It gives more insight of each characters' head. Great experience.
Marty McFly, a 17-year-old high school student, is accidentally sent 30 years into the past on a time travel adventure in a DeLorean invented by his close friend, the maverick scientist Doc Brown. (IMDB)
Movie novelizations can be tricky. They ususally lack the kind of immersion an original book, or even the movie, have. But that is not the case here. Adapted from the original screenplay, this one has great character, environment and mood detail.
This piece is based on an earlier version of the movie script, so there are some scenes in the book that are not in the movie. For example, in the movie Marty is given detention, but we are never shown him in detention. The book shows Marty getting out of detention in a very ingenious way.
This book was written in a period, the 80's, when novelizations were popular and better writers were hired for this type of job.
George Gipe that also wrote other adaptations of famous movies did an excellent job in immersing us into the minds of Marty McFly and all other characters in the fantastic trip along 30 years back and forth.
The plot zips us along with Marty with not a single boring moment. It thoroughly details an atmosphere that we've seen on screen so many times. It's clearly a new way to experience a well-known adventure.
This work is an essential acquisition for any "Back To the Future" Fan.
Out of Print (why?), the book still has some new and used copies on the market. Besides being a good book, this novel is also a piece of memorabilia that many would be satisfied to show on the shelves. I'd hunt it down.
cultural relevance

entertainment

readability

Our personal rating
Author and Average Rating
Born in Baltimore, Maryland, George Gipe was an American magazine writer, author, and screenwriter.
He co-wrote Dead Men Don't Wear Plaid (1982) and The Man With Two Brains screenplays, as well as two novels and five movie novelizations.
Gipe died in 1986 at the age of 53 as the result of an allergic reaction to a bee sting.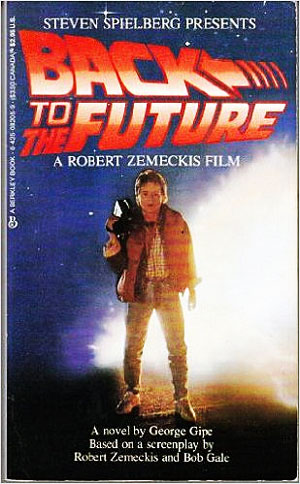 Back to the Future
movie novelization | Adventure | Comedy | | Science Fiction | Time Travel
Berkley
July 1, 1985
Hardcover, Paperback, Nass Market Paperback
248
Robert Zemeckis & Bob Gale (screenplay)
all ages

---
For those who don't know it yet, let's take a quick peek at
The Story
Narrative Structure
Act 1
Marty McFly is an aspiring teenage musician from Hill Valley, California, where he lives with his loser family.
Trigger
On October 26, 1985, Marty meets his scientist friend, Dr. Emmett Brown. After a struggle with some terrorist Libyans, the scientist is killed and Marty escapes in Doc's DeLorean, but inadvertently travels to 1955 without the required plutonium needed to return.
Act 2
There, Marty encounters his teenage father, George, who is bullied by classmate Biff. After Marty saves George from being run by a car and is hit unconscious, he wakes up to find himself tended by an infatuated Lorraine, his mother to be.
Marty finds Doc's younger version. He needs help to return to 1985.
They find out that only a lightning strike at the town's courthouse the coming Saturday night will replace the lacking plutonium.
Doc tells Marty not to leave his manor nor socialize with anyone, as he could change the future with disastrous consequences
Marty realizes that he prevented his parents from meeting. Doc realizes that Marty will be erased from existence if he doesn't make his parents engage again.
Doc formulates a strategy to control the power of the lightning. Meanwhile, Marty must introduce his parents.
Act 3
When Lorraine invites Marty to the school dance, Marty intends to have George "rescue" her from Marty's improper approaches.
Climax
spoilers
The plan goes wrong when a drunk Biff tries to force himself on Lorraine.
George appears to rescue her from Marty but is surprised to find Biff in his place.
Unexpectedly, George finds strength to knock out Biff, and Lorraine follows her new hero to the ball, where they kiss and fall in love.
Job done, Marty goes to meet his scientist mentor.
The lightning strikes correctly on time, sending Marty back to 1985.
[collapse]
Act 4
spoilers
He finds that Doc is alive since he had secretly read Marty's warnings and used a bullet-proof jacket. Doc departs to 2015.
Next morning, Marty finds his family changed into a fantastic new version. As Marty reunites with his girlfriend, Doc comes back from the future to ask them for help. They need to fix a problem with their future children.
[collapse]
Please leave a comment with your opinion.
[cta id="1970"]