Dragons of the Valley by Donita K. Paul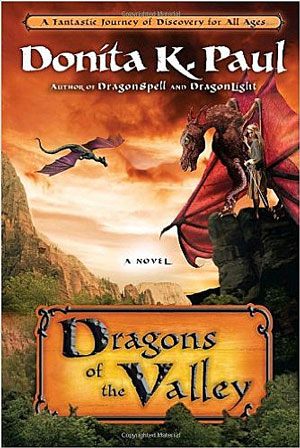 In Dragons of the Valley by Donita K. Paul
, an artist becomes a reluctant warrior in this dragon-fantasy
about a land in imminent danger.
The Book
War threatens the peaceful land of Chiril. Can one painter-turned-reluctant-swordsman sustain safety?
With an incursion against her country coming, Tipper Schope is dragged into a quest to save three important statues from the enemy's grips.
Friend and artist,  Bealomondore, aids her to execute a plan, and, as they go, he needs to learn how to wield a sword, so different from the paintbrushes he is used to.
As a rash of volatile behavior and strange disappearances sweep the land, no one is secure. A terrifying danger has made his vicious presence acknowledged:
The Grawl, a creature different from any known stalker beast.
To restore their land, Tipper, Bealomondore, and their friends must hide the figures in the Valley of the Dragons. Moreover, they need to find a way to overcome the invading enemy.
When it's time for the artistic Bealomondore to handle his weapon as naturally and powerfully as a paintbrush, will he respond to Wulder's call for a champion?
cultural relevance

entertainment

readability

Our personal rating
Author & Avg. Rating
Donita K. Paul retired from teaching and, after getting bored, she was determined to start a new writing career. Now she is a successful novelist of Christian Romance and Fantasy. She still keeps the teacher side of her by coaching all ages into creative writing.
Dragons of the Valley: A Novel
Valley of the Dragons
Fiction Adventure Fantasy Young Adults Christian
WaterBrook
September 21, 2010
kindle, paperback, audible, audioCD
384
Books and Movies: Reviews
Mature kids and up, but mainly focused on teens

Review
This book is an excellent fantasy novel where the author uses her boundless imagination to create an entirely new world full of creatures in the best J. R. R. Tolkien style. Comparisons to the middle earth from "The Lord of the Rings" or even Narnia by C .S. Lewis are justified.
The straightforward and rich plot takes us to Chiril, a peaceful land that is suffering an invasion.
Princess Tipper Schope must hide the realm's most valuable relics from the hands of the enemy; Three statues that represent their link to Wulder (God), and hold their world together with harmony and balance.
She chooses an artist and a wizard to help her on this crusade; Hiding those statues in safety at the Valley of the Dragons.
The "Good x Evil" theme is a permanent presence in the book. A creature named Grawl represents evil. During the development of the story the main characters learn to trust in Wulder, that is the representation of Good, their God, and creator.
It is possible to notice many ties between this fantasy and the Christian Bible. We can clearly identify Wulder with God and Grawl with Satan. Like in the Bible, the improbable ones are the chosen characters to face danger and count upon God to defeat the enemy.
I suggest this excellent book to fantasy lovers and fans.
The publishers were too kind to provide me with a copy for an uncompromised book review through their Blogging for Books Program.
Please leave a comment with your opinion!
[cta id='1962']