The Adventure of the Six Napoleons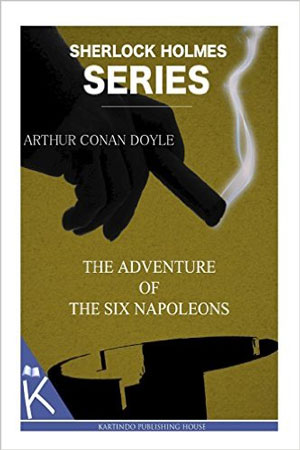 The Adventure of the Six Napoleons is one of the 56 Sherlock Holmes short tales written by Arthur Conan Doyle. Check it out this mystery!
The Book
In this tale, Sherlock Holmes is summoned to investigate a puzzling series of events; Someone is destroying apparently insignificant Napoleon statues.
cultural relevance

entertainment

readability

Our personal rating
Author and Average Rating
Arthur Conan Doyle is famous British writer, famous for creating the Sherlock Homes character. (read mini bio)
The Adventure of the Six Napoleons
The Return of Sherlock Holmes
Investigation, detective
CreateSpace Independent Publishing Platform
(May 9, 2014
paperback, audible
24 pages
10 and up.

---
Review
Act 1 and Trigger
Usually, Sherlock Holmes' stories have a very short Act 1 and the problem (crime) comes up quickly to drive the story forward.
Inspector Lestrade presents Holmes an apparently insignificant problem regarding a man who shatters plaster models of Napoleon. He shattered one in Morse Hudson's shop.
Act 2
A thorough investigation conducted by Sherlock Holmes begins and leads to (yes, you guessed) unexpected developments.
spoilers
After a burglary, he smashed two others; Hudson had sold that to a Dr. Barnicot, at the doctor's house and branch office. The bandit did not take anything else and made bust outside before breaking in it, in the former case.
Holmes understands that Lestrade's assumption about a Napoleon-hating demented must be incorrect. The busts in the case all originated from the same model. Why is he cracking them?
The next day, Lestrade summons Holmes to a residence where there has been yet another statue-shattering, but also a murder. Mr. Horace Harker found a dead guy in his doorway after examining a noise.
His Napoleon bust was also taken by a burglar entering through a window. It, too, was from the same model.
They also find a photo of a somewhat apish-looking individual in the deceased man's pocket.
The pieces of Harker's bust are in the front yard of a vacant house up the road. Obviously, the criminal wanted to see what he was doing. There is a streetlamp in the place and the needed it.
Holmes tells Lestrade to inform Harker, a reporter for the Central Press Syndicate, that he is sure that the offender is a lunatic. Holmes wants to use the newspapers to influence the criminal that this is what the detectives believe.
Holmes questions the two storekeepers who sold the sculptures and discovers whom they were traded to, and where they were manufactured, Gelder & Co.
A some of his informants also recognize the apish person in the picture. They recognize him as Beppo, an Italian foreigner. He even worked in the store where the first bust had been broken, having left his work there only two days before.
Mid-Point
Holmes goes to Gelder & Co. and discovers that the statues were part of a lot of six, but other than that, the supervisor can conceive no motive that they should be unique, or why anybody would want to ruin them.
He remembers Beppo's photo and describes him as a crook. He had been imprisoned for a street fight stabbing a year before but has likely is on the lose now.
He once was an employee at Gelder & Co. and his cousin still works there. Holmes urges the manager not to speak to the cousin regarding Beppo.
That night, Lestrade brings news that the dead guy has been recognized as Pietro Venucci, a Mob man. Lestrade supposes that Venucci was sent to eliminate Beppo, but wound up deceased himself. Why?
[collapse]
Act 3
Lestrade, Holmes, and Watson go on a stakeout.
spoilers
After sending an express note, Holmes asks Dr. Watson and Lestrade to meet him outside a house in Chiswick where seemingly Holmes is awaiting another bust-breaking. Lestrade by now is irritated with Holmes's worry with the sculptures but comes.
[collapse]
CLIMAX
spoilers
They are not frustrated. Beppo appears, enters the house, and comes back from of the windowpane moments later with a Napoleon bust that he progresses to smash. He then inspects the parts, quite unconcerned that Holmes and Lestrade are hiding behind him. They jump in, and Beppo is captured. He does not talk, though.
[collapse]
Act 4
spoilers
The story is at last laid exposed after Holmes offers £10 for the last existing bust. After the seller leaves, Holmes breaks the sculpture and finds a famous gem.
Holmes was aware of its disappearance since the beginning.
Suspicion had fallen on the owner's housemaid, the dead man's sister. Beppo someway got the jewel from Pietro Venucci and dumped it inside a still-soft plaster bust at the workshop where he molded them, just before his capture for the street fight stabbing.
After his one-year prison time, he tried to recover the hidden jewel. He discovered from his cousin who bought the models, and by his efforts and associates', even spotted out who the end customers were.
He then continued to seek the sculptures out, crushing them one after the other to find the pearl.
[collapse]
Lestrade
This is one of Lestrade's last occurrences within the Sherlock Holmes canon. After this story, he is mentioned by Holmes or Watson in two other works, as a member of the Scotland Yard.
Please leave a comment with your opinion.
[cta id='1970']