A Study in Scarlet book review
A Study in Scarlet book review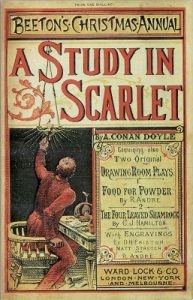 Sherlock Holmes' Study Scarlet is one of Conan Doyle's most famous titles. His books are a must-have in any distinguished library. Read on!
The Book:
In 1887, a young doctor, Arthur Conan Doyle published A Study in Scarlet, thus creating an international symbol in the quick-witted detective, Sherlock Holmes.
In this, the first Holmes mystery, the investigator introduces himself to Dr. Watson with the perplexing phrase, "You have been in Afghanistan, I perceive." And so begins our fascination with this enigmatic figure.
Doyle presents two identically perplexing mysteries for Holmes to solve: first, a murder that takes place in the dark outskirts of London, in a locked room where the eerie word Rache is written on the wall.
The other an abduction set in the American Old West. Quickly picking up the red thread of murder running through the colorless entanglement of life," Holmes does not fail at finding the truth – and making literary history.
cultural relevance

entertainment

readability

Our personal rating
Author and Average Rating
Sir Arthus Conan Doyle is one of the most well-known British writers. He is the famous creator of Sherlock Holmes. (read mini-bio)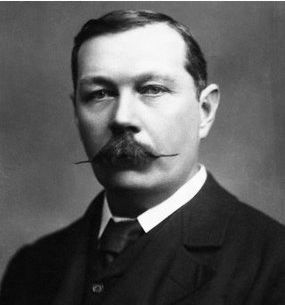 A Study in Scarlet
Sherlock Holmes
Classic, Investigation, Mystery
many; the book is under public domain
first published in 1887
hardcover, paperback, kindle, audible
114
People old enough to follow the investigation reasonings.

Review
To share the expenses of a studio after returning injured from the Afghanistan War, Dr. Watson, through common friends, finds a roommate in London.
His roommate is no other than Sherlock Homes, a man with strange habits, who works as a consultant detective. He is asked by detectives from Scotland Yard to help them in solving a double murder in the outskirts of London.
Through reasoning and observation, he links a love story followed by another double murder that happened in Utah, United States, to this current murder case. This way, coming up brilliantly with the identity of the assassin.
The idea is fantastic, and the connection between the two stories is exceptionally well executed. No wonder why this is a classic!
Please leave a comment with your opinion.
[cta id='1970']