The Kon-Tiki Expedition Book
The Kon-Tiki Expedition Book is a 1948 work by Thor Heyerdahl, about his experiences across the Pacific Ocean on a balsa tree raft.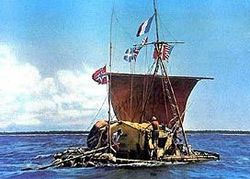 Besides being a great explorer, the Norwegian author is an excellent storyteller that sold out this book in 15 days after being published on November 2, 1948.
He starts his narration telling the challenge of having his theories accepted by scholars.
They doubt his theory about South American natives being the ones to populate and colonize the Polynesian islands. It seemed quite impossible for a small raft to reach those distant islands in the Pacific.
That triggers the desire for the author to prove himself right. He starts looking for ways of setting up this travel, finding a crew and financial resources for the campaign.
After resolving the financial problems through the support of people from the explorer's club in New York, he starts visiting Washington multiple times to get licenses and approval for using military food. That is how he ends up finding his first travel mate, Herman Watzinger.
Later, Knut Haugland, Bengt E.Danielssen, Erik Hesselberg and Torstein Raaby join the expedition.
cultural relevance

entertainment

readability

Our personal rating
Author and Average Rating
Thor Heyerdahl was a Norwegian explorer, adventurer, and writer. Born in 1914, he became famous for his daring 1947 Kon-Tiki expedition. He died in Italy in 2002.
Kon-Tiki: Across the Pacific in a Raft
Adventure, Non-Fiction, History
Simon & Schuster
May 1st 1990 - first published in 1948
kindle, hardcover, paperback
256
Books and Movies Reviews blog

---
The book details this amazing and incredible journey taken by six people (five Norwegians and one Swede) through the Pacific Ocean.
The author illustrated the book with photos that he took during their amazing quest.
This book depicts how much courage those men needed to have to expose themselves to the wind, the rain, the deprivation of comfort, and the danger of death just to prove a theory.
It is more than just a traveler's journal. The book is a masterpiece and should be in the permanent library of any serious reader.
The title also names an Academy Award-winning documentary movie telling his adventures and the 2012 dramatized feature film nominated for the Academy Award for Best Foreign Language Film.
Please feel free to leave a comment with your thoughts.
[cta id='1972']