The Magician's Nephew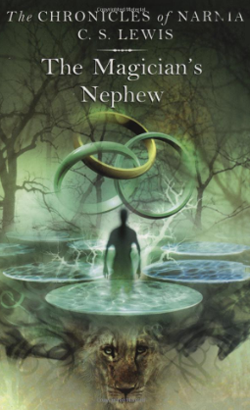 This novel is a fantasy for children, written by C.S.Lewis and published in 1955.  It transports the reader to the very beginning of Narnia.
In this book, we learn how Aslan created the world and how evil first entered it.
The story begins in London around the 1900s. Digory Kirke and Polly Plummer are children playing in adjacent gardens of a row of terraced houses.
They decide to explore an attic connecting the houses and, by accident, they surprise Digory's Uncle Andrew in his study.
Uncle Andrew tricks Polly into touching a yellow magic ring causing her to vanish. He then blackmails Digory into rescuing Polly by using another yellow ring, while giving him two green rings for their return.
And that's how it all begins…
cultural relevance

entertainment

readability

OUR RATING
Summary
Children's novel by C.S.Lewis
Book #1 in the classic fantasy sequence, The Chronicles of Narnia
Explains the origin of the world according to Narnia's canon
Two friends are driven into a realm that will be known as Narnia, where all things are possible.
The Magician's Nephew
Chronicles of Narnia (book 1)
Children, Fantasy, Classic
HarperCollins; Reprint edition (January 2, 2008)
1955
paperback, hardcover, kindle audible
208
Pauline Baynes (Illustrator)
8 and up

Digory is reunited with Polly in a wood between pools of water. Jumping into different pools while wearing the green rings takes them to different universes. One of those universes takes them to a palace among ruins of an ancient world of Charn.
Inside a hall lined with statues of former rulers, they find a bell with a sign that dares one to ring the bell while warning against doing so. Digory rings the bell and the sound awakes the last of the statues, the evil Queen Jadis.
Realizing her evil nature, the children flee back home through the wood, but Jadis follows and is pulled with them to London. After some severe trials, Digory and Polly succeed taking Jadis out of London, but their return to the woods also brings along Uncle Andrew, a cab driver named Frank and his horse Strawberry.
Digory leads them to a pool where they find blackness, which Jadis recognizes as a world not yet created. Aslan appears and starts creating the stars and the sun.
He breathes life into the world, causing animals and plants to emerge from the earth. Jadis tries to attack Aslan but does not succeed to defeat him and flees. Aslan selects some animals to become intelligent talking beasts.
Aslan offers Digory an opportunity to atone for bringing Jadis into Narnia and sends him and Polly into a mission of retrieving a magic apple from a walled garden, where they find Jadis, who has eaten one of the apples, gaining eternal youth.
She tempts Digory to eat the apple or to use it to cure his dying mother, but Digory refuses and brings the apple back to Aslan. Aslan congratulates him and tells him to plant the apple.
Aslan then crowns Frank and his wife Helen - whom Aslan has transported from Earth - the first King and Queen of Narnia. The apple grows into a tree which Aslan explains will protect Narnia from the Witch for a time.
He tells Digory that a stolen apple would have cured his mother, but at a terrible price. He gives Digory an apple from the tree to save his mother.
When returning to London Digory cures his mother with the apple and buries the core in his back yard, together with the rings, to prevent their misuse. The apple core grows into a tree and years later the tree is blown down in a storm, and Digory takes the wood and has it made into a wardrobe.
The Magician's Nephew has biblical allusions, reflecting aspects of The Book of Genesis such as the creation, original sin, and temptation.
The main characters are Digory Kirke, Polly Plummer, Uncle Andrew, Jadis, and Aslan.
I would recommend this book to anybody that likes reading. It makes you want to read all the books that follow.
C. S. Lewis was British writer and academic. To know more about him, read this article.
[cta id="1967"]