The Siren by Kiera Cass book review
The Siren by Kiera Cass book review: A most enjoyable story in a simple, easy, cheesy on the right spot, and full of excitement plot-style.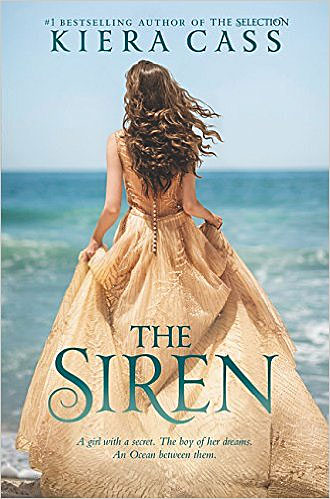 Well… A little cheese is excellent, especially when you get an exceptional character as a hero, isn't it?
The Book
Kahlen still has trouble adjusting to the life of a siren. After becoming a siren 80 years ago, she is still unable to subdue the disgust and shame she feels while taking innocent lives to feed the Ocean.
In The Siren by Kiera Cass, the Ocean is a loving being who feeds off lives that drown in its deeps. Sirens are the few young women that it saves from death to keep. The Ocean cares deeply for Kahlen.
Nevertheless, when the protagonist falls for Akinli, a human boy, her responsibility to care for her sisters and the Ocean proves to be a difficult job.
Her sisters and the Ocean, watch her soul and body decay the longer she is apart from Akinli, who enjoys the true Kahlen, aside from her silence and beauty.
Overall, the main character is mild, but her confused past, thoughts, and actions make her somewhat attractive. Teenagers will enjoy her passion. Secondary characters aren't as engaging nor deeply developed.
The Author
Kiera Cass is an American novelist recognized for the Selection saga. Learn about her on this mini-bio.
The Book Review
Some say this is a "remake" of her first printed version of this story and that the first variant wasn't so good. I didn't read the first version, so I con only vouch for this one!
I enjoyed Cass's version of sirens. The ocean talks to them and treats them like daughters. Still, it can be just as ruthless when not obeyed. Moreover, when they turn siren, they wear these gorgeous siren dresses, which I thought was unique and distinctive.
The charmers are under this "curse" for a certain amount of time and then are released. It's curious how they come from all different backgrounds, times, families and they bond with each other. They each have their personality.
This plot of The Siren by Kiera Cass is a very moving and sweet story. I feel that it is very appropriate for all ages, but the teenage connection is obvious. A good thing about Kiera Cass is that she produces well-constructed, clean and appealing romances.
Despite some deficiencies, the novel is pretty well written and offers a fairy tale with a twist that romance fans will appreciate.
I'd say it is a good purchase where loyal Kierra Cass fan base is robust.
All in all, I liked it a lot. If you're seeking a charming, and unique story about sirens, pick this one up!
If you like fantasy books, you may want to check The Best Fantasy Books series list post
Please leave a comment about The Siren by Kiera Cass book review.
The Siren
Fiction Fantasy Mythic Romance Novel BooksCrier Young Adults
HarperTeen
January 26, 2016
kindle, hardcover, paperback, audible
336
teenagers of all ages

cultural relevance

entertainment

readability

Our personal rating