Wonder by R. J. Palacio is a New York Times #1 bestseller that tells the story of a different boy with facial marks trying to blend in.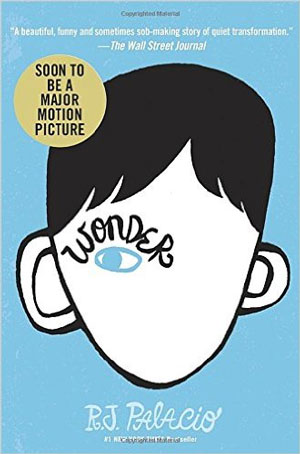 A facial difference marks August Pullman ever since he was born. That has kept him away from attending a regular school.
Now he is beginning his 5th-grade year at Beecher Prep, he wants nothing else besides being treated as an average kid, but his new schoolmates can't ignore Auggie's extraordinary face.
The plot begins from Auggie's perspective but soon switches to include his classmates, relatives, and other people.
These points of view converge into a portrait of one community's conflict with empathy, compassion, and acceptance that will bring every reader to a better sensitivity for the simple courage of friendship.
August Pullman is a protagonist to root for, a rough diamond who shows that it's very unlikely to blend in when you were born to stand out.
cultural relevance

entertainment

readability

Our personal rating
Author and Avg. Rating
R. J. Palacio was born and raised in New York City.
She attended studied and became a graphic designer and illustrator before writing Wonder, about the wonders that reside in all of us.
The book, the fulfillment of her dream to write and illustrate her own picture book, is the first of a series.
She lives in Brooklyn with her family. Learn more about her at rjpalacio.com or on Twitter at @RJPalacio.
Wonder
Wonder (book #1)
Fiction | Realistic Fiction | Children | Young Adults
Knopf Books for Young Readers
1 edition (February 14, 2012)
kindle, hardcover, paperback, audio cd
320
Amazon, Goodreads
8 - 12 years
3 - 7

---
The author did an excellent job while drawing the story from different characters' points of view. They were all believable to me. We get to understand a lot of feelings and how some confusions develop.
The story easily involved me, and it was easy to imagine the troubles of a middle school kid with extreme facial deformities.
RJ Palacio developed Auggie's view so well and explained his challenges and strengths so wonderfully that it seems she must have good experience with children living this sort of struggles in life.
The sheer truth of Auggie's journey makes us feel struck to the core.
This beautiful and inspirational tale brings reflections of how we, as people, all struggle in life and are very blessed by our friends and families who support and love us.
Children can learn to quit bullying and get along. As educators and parents mainstream kids more and more, we must bring up these issues. No one should be made afraid at school by intolerance of any kind.
RJ Palacio's "Wonder" should be a required book in school.  This book is a must-have work for every household, counseling or therapist's office too.
Please leave your opinion in the comment area.
[cta id='1970']