Average Joe by Troy Meeder
Do you think life is too ordinary? Think again! You are an everyday hero and just haven't noticed yet. Check out Average Joe by Troy Meeder!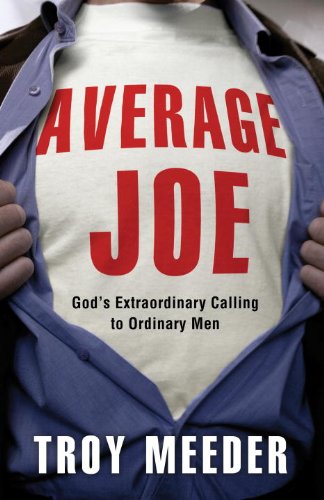 The Book
"What is going on with my life?"
Do you regularly ask yourself that recurring question? As young boys, we dreamed of being cowboys, pilots, firefighters, and doctors.
Now we've come of age, with an incredible family, as well as a minivan, mortgage, and an excellent, but the not-so-glamorous job we once imagined. Did something happen and we did not notice? All the ideas, which once motivated us, have dissolved into bills, traffic jams, computer screens, and deadlines. Why is life so dull?
If you see your life as nothing special, try to look at it from God's point of view.
The real revelation is that God chooses "ordinary," faithful men to do His most important work: Regular guys like Peter, a fisherman; David, a shepherd; Stephen, a waiter; Gideon, a farmer; Paul, a tentmaker; and even Jesus, a carpenter.
Troy Meeder blends appealing stories about biblical characters and contemporary men to show that an "average-Joe" existence, an "ordinary" life, shapes our integrity, strength, resolve, and moral balance.
The world desperately needs an army of ordinary guys, "average-Joes", like you.
cultural relevance

entertainment

readability

Our personal rating
Author and Average Rating
Troy Meeder has been a lot of things over the years; corporate VP, youth pastor, Landscape Contractor and gentleman rancher.
He founded and built the Crystal Peaks Youth Ranch, a once equine rescue facility, now a place for healing, safety, faith and unconditional love for thousands of visiting children. Crystal Peaks hosts over 5000 visitors a year.
He and his wife, Kim, have hiked hundreds of mountains, rode over thousands of grimy trails and enjoyed many nights on campfires.
Average Joe is his first book and is about being someone a bit like him.
Average Joe: God's Extraordinary Calling to Ordinary Men
Non-Fiction | Religious | Christian
Multnomah; Sold by: Amazon Digital Services LLC
April 5, 2011
kindle, paperback
505
Books and Movies Review website transfer
http://booksandmoviesreviews.blogspot.com.br/2011/08/book-average-joe-by-troy-meeder.html
teenagers and up

---
The Review
This book is a very enjoyable and inspirational reading for the average Joe's like myself. It makes us confident that God loves us no matter what or how we are.
The writer describes famous stories about some of the most known biblical characters and also some other personal stories he collected during the years. He also makes us think about our ordinary life and how God uses us in His plan.
Being average is not boring. It can be as exciting as being a celebrity. It all depends on the perspective. But you have to be not just another average, but the best average you can be.
God will work through you, touching the lives of those surrounding you with power that will make you feel very special to Him.
Live your life following essential principles and transmit those principles to others, and you may be changing the life of many around you.
Despite the familiar concept of the ordinary guy, these fellows have adopted honor, integrity, and morality and kept a commitment to their position.
From special soldiers to poor clergy monks, real stories remind us the importance of a man's character, his word, and a steadfast resolve.
I believe you'll enjoy reading about people that have changed the world around them. Men that have an intense love for Jesus Christ, their families, and life.
The publishers were too kind to provide me a copy for an uncompromised book review through their Blogging for Books Program.
We will very much appreciate if you leave a comment with your thoughts about this review.
[cta id='1965']