C. S. Lewis' Prince Caspian
---
C. S. Lewis' Prince Caspian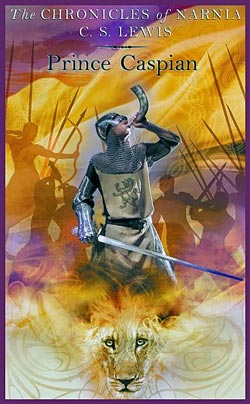 In this second book of the Narnia series, the four kids return to Narnia to help brave Prince Caspian in a struggle against his usurper uncle. Take a look!
This is absolutely a must-read book. Readers are left with no option but follow all other novels from the series, Chronicles of Narnia.
Book Title: Prince Caspian: The Return to Narnia
Author: C. S. Lewis
Genre: Children's Fantasy
Publisher: Geoffrey Bles
First Release Year: 1951
Pages: 240
---
cultural relevance

entertainment

readability

Our personal rating
Summary
The Pevensie kids return to Narnia. They are engaged to aid in a fight against an evil king and reestablish Prince Caspian, the rightful successor to the throne.
main characters:
Protagonist: Caspian – Antagonist: Miraz
Mentor: Cornelius and Peter – coAntagonists: Glozelle and Sopespian
Sidekicks: Peter, Edmund and Aslan – Skeptic: Trumpkin and Nikabrik
Emotion: Lucy – Reason: Suzan and Trumpkin
get the book or video
The Book
For over sixty years, C. S. Lewis has driven every kind of reader to his classic fantasy series in a magic place where all things are possible.
On this fourth book, the Pevensie kids travel back to Narnia. They need to help a prince to recover his denied rightful throne.
They will all gather an army in a desperate attempt to free his land from an evil false king.
The Author
C. S. Lewis is a prominent British writer best known for his well-known Narnia saga.  Born in 1898, the author also worked as a broadcaster. He was a theology and Christian academic from Oxford and Cambridge. Lewis died in 1963.
Review
Prince Caspian begins when the Pevensie kids are catapulted from a British railway station back to a castle in Narnia.
There they find their relics, but not Susan's horn for summoning help.
A foreign migration group of humans named Telmarines had invaded Narnia since 1300 years before.
The Talking Animals were banned into the wilderness, and nobody is supposed to mention their existence.
King Miraz, the throne usurper, needs to get rid of Prince Caspian, his nephew, and its rightful successor.
He plans to make heir his unborn son.
After meeting with the creatures of Old Narnia, Caspian tries to gather a council at midnight.
Cornelius appears and warns them that King Miraz and his army are coming.
They flee towards Aslan's How in the great woods but are followed by the Telmarines.
When they are close to defeat, Prince Caspian blows Susan's horn hoping that help should arrive.
They dispatch Trumpkin to Cair Paravel to look for the Pevensie children and there he is captured by Telmarine army and rescued by the children.
They make their way to Caspian. During their journey, Lucy sees Aslan and wants to follow where he leads.
The group follows its original path because they don't believe her.
The figure of Aslan becomes visible, and they obey.
Aslan goes along with the girls as he had just sent Trumpkin, and the boys to Aslan's How.
When they reach Aslan's How, Nikabrik and his allies are trying to convince Caspian and buddies to help resurrect the White Witch. They intend to have her on their side against King Miraz.
Destiny will be decided in a final struggle.
This is the trailer of the production based on the book:
Please leave a comment with your opinion.
[cta id='1967′]