Entrusted: A Study of 2 Timothy by Beth Moore
Entrusted: A Study of 2 Timothy by Beth Moore is a gospel study work for those who want to deepen their spiritual understanding of the Word.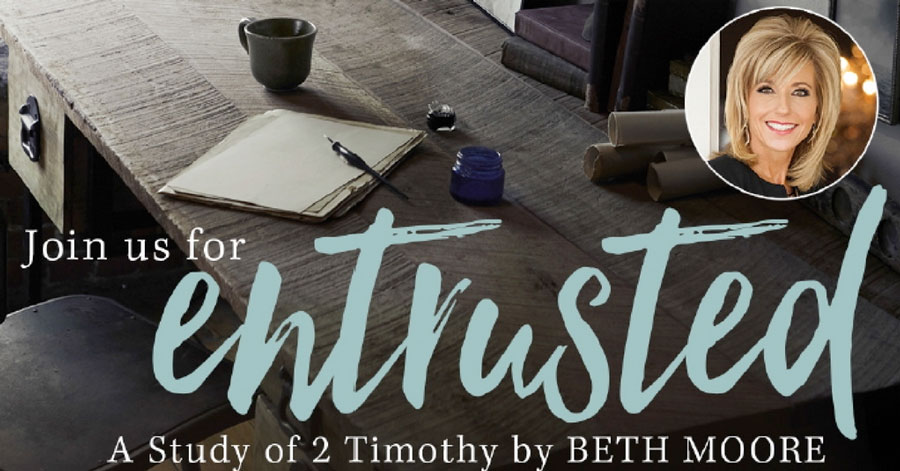 The Book
This trip should never be taken alone. It is a path of faith that deepens our spiritual knowledge.
God gave us the gospel as a precious gift and trusts that we will keep up to the task of keeping its high standards.
In Entrusted: A Study of 2 Timothy by Beth Moore we will find 6 Bible studies divided in sessions.
The author encourages the reader to guard what God has entrusted us. His kingdom is open to us all by sharing Christ with everyone, just like Paul taught Timothy.
While in this journey of hard work and joy everyone needs to keep track of the divine teaching and live a truly spiritual life of faith.
Features:
Content that is centered and root in the Bible and Gospels.
Personal study sections with homework for individuals and groups
Additional studies by ministry, Melissa Moore, Beth's daughter
Perfect for all kinds of Christian support groups
Enlightenment about everyone role with the gospel
Shows how mentoring is a crucial part of our spiritual journey
Challenges us in the discipline of daily Bible study
The Author
Beth Moore is a prolific Bible-study American writer whose public speaking actions take her across the country to challenge thousands. (read her mini-bio)
Review
I learned a great deal in this Bible Study Book, Entrusted: A Study of 2 Timothy; It's really good for groups that will certainly enjoy completing each of its parts. This author's usually reliable studies are great in depth bible reflections of personal growth.
Told like a story, it will be great to make people think and spend time in reflecting on its biblical points and discussions.
One great feature is its interactiveness. It propels us to also write about the study as a form of deepening our examinations about the various subjects discussed. Some people remember things better when they write about them. It is a way of reinforcing your knowledge.
Homework heavy, intense, and so very much worth it, this one is a great book.
Please leave a comment about Entrusted: A Study of 2 Timothy by Beth Moore.
cultural relevance

entertainment

readability

Our personal rating
Entrusted - Bible Study Book: A Study of 2 Timothy
Non-Fiction Religious Christian Faith
LifeWay Press
September 1, 2016
paperback
192
Melissa Moore