Whispers of Hope by Beth Moore book review
Whispers of Hope by Beth Moore book review: The Scriptures tell us to pray without ceasing, However, how on Earth do we even start doing it?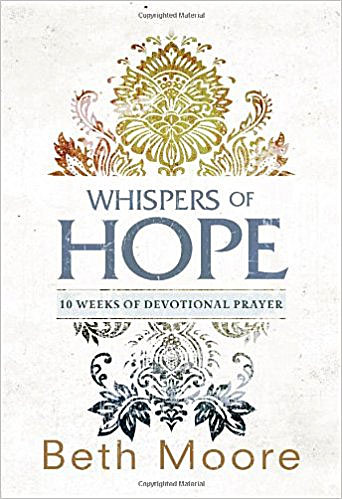 The Book
Best-selling author Beth Moore addresses these practical and pervasive matters in Whispers of Hope by walking readers through a method of prayer that's easy to remember and apply, coupled with seventy daily devotionals and accompanied by prompts to put this prayer program into practice.
You will better learn how devotional reading and prayer are fundamental to a stronger connection with God. Whispers of Hope by Beth Moore teaches the manifestation process of powerful Word-saturated prayer in reply to daily Bible studies.
The Author
Beth Moore is a prolific Bible-study American writer whose public speaking actions take her across the country to challenge thousands. (read her mini-bio)
Review
Whispers of Hope by Beth Moore is the fourth book that I read from this writer. I got tied to her inspirational style after reading "A Heart Like His" and "Voices of the Faithful" volumes 1 and 2.
This devotional book brings us a total of seventy short and inspirational themes for prayer and meditation.
After each part, the writer opens a space where we can write our personal thoughts on subjects like:
Praise
Repentance
Acknowledgement
Intercession
Supplication for Self
Equipping
The production of the book was extensive, with a beautiful cover design and an old parchment-like type of paper selection giving the book a very traditional look.
The work is a great effort to put together strong messages to boost our faith and would make an excellent present to any Christian or to anyone that interested in the subject of praying.
The author was kind enough to provide me a copy for an uncompromised book review.
Please leave a comment about Whispers of Hope by Beth Moore book review.
Whispers of Hope: 10 Weeks of Devotional Prayer
Non-Fiction Religious Christian Faith Devotional
BH Publishing Group
October 1, 2013
Digital Book, Hardcover, Paperback
240
http://booksandmoviesreviews.blogspot.com.br/2013/11/book-whispers-of-hope-by-beth-moore.html
Book "Whispers of Hope" by Beth Moore