The Shelter of God's Promises by Sheila Walsh
The Shelter of God's Promises by Sheila Walsh shares her personal stories to show that God is always there to guide and protect us.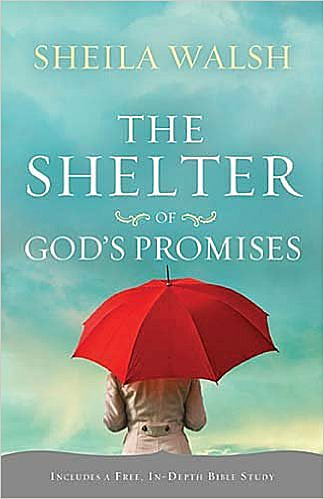 The Book
To provide the basis for daily confidence, joy, and optimism, the skilled Bible instructor, and inspiring, Women of Faith, lecturer, Sheila Walsh offers powerful, heart-filled teachings about ten bedrock promises of God.
In The Shelter of God's Promises, the author searches the Scriptures for what God has promised us, what those promises mean, and embracing Christ, are eternal fulfillments of His unrelenting engagement with us.
In this interesting walk through some divine compelling passages, Walsh uncovers ten foundational words of God that secure our lives during challenging times.
This author conducts her endorsing storytelling, inspiring personal experience, and the Scriptures to help readers earn a trust in God that will support them for life.
The Shelter of God's Promises Review
This book is an excellent, very well written, work. Walsh has a high sensibility to put her feelings into words, she also involves readers in powerful messages and personal narratives.
We have ten chapters covering very important promises that God made to His people.
She covers promises related to:
a pledge – I need something to hold on to
provision – I don't have enough
peace – I'm afraid and feel alone
confidence – I can't see God's plan in this pain
love – I don't believe that anyone could love me
grace – I have failed
hope – I'm broken
strength – I feel things are crashing around me
more – I know there's something better
home – I have a future.
For the reader to get involved, the author provides a Bible Study at the end of the book, with questions for each Chapter. All divided into sections well related to their chapter's topics.
Definitely, this is an excellent piece of work by Mrs. Sheila Walsh.
The publishers were kind enough to send me a copy, for an uncompromised book review, through the Thomas Nelson Book Review Bloggers Program.
Recommended for adults, teenagers, and mature kids.
Please, leave a comment about this The Shelter of God's Promises by Sheila Walsh article.
cultural relevance

entertainment

readability

Our personal rating
The Shelter of God's Promises
Non-Fiction Religious Christian Faith
Thomas Nelson
January 30, 2011 edition
kindle, hardcover, paperback, audible, audio CD
205
Books and Movies: Reviews
http://booksandmoviesreviews.blogspot.com.br/2011/02/book-shelter-of-gods-promises-by-sheila.html
Book "The Shelter of God's Promises" by Sheila Walsh
mature kids and up.

Sheila Walsh is the creator of Children of Faith and the Gnoo Zoo, a ministry to children that communicates God's love for them.
She is also the writer or co-writer of several books including "The Best Devotions of Sheila Walsh", "Honestly," "Gifts for Your Soul," and "Living Fearlessly".
Sheila, her husband, and their son live in Frisco, Texas.