Open Minds by Susan Kaye Quinn
Open Minds by Susan Kaye Quinn is the first novel in the Mindjack Series, the well-produced saga of young adult science fiction stories.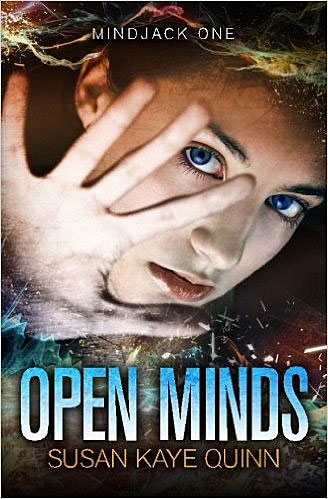 When everyone is a mind reader, it might be safer not keep secrets.
The Book
Kira Moore, 16, is a "Zero", someone who can't read minds, nor be read by others. Zeros are outcasts who are not to be trusted, and that doesn't help her chances with Raf, a regular mindreader and a best friend she loves in secret.
When she unwillingly controls Raf's mind and nearly kills him, Kira attempts to hide her scary new ability from her parents and an increasingly suspicious Raf.
However, lies entangle her, and she's dragged deep into a hidden underworld of mind-jackers:
A place where having to mind control, everybody she loves is just the beginning of the deadly choices the lie ahead.
cultural relevance

entertainment

readability

Our personal rating
Summary
Author
Susan Kaye Quinn was brought up in California, where she used to pass her snippets of stories to friends during class. Teachers, recognizing her talents, occasionally pretended not to look the other way.
Instead od writing, she pursued a highly successful career in Aerospace Engineering, Mechanical Engineering, Environmental Engineering, working with NASA, NCAR, and a little Venice Beach restaurant.
Now that she writes novels, her business card says "Rocket Scientist and Author".
Open Minds
Mindjack, Book 1
Fiction Fantasy Paranormal Science Fiction Dystopia
CreateSpace Independent Publishing Platform
October 3, 2011
342
Books and Movies: Reviews
Teenagers

---
Review
This book is a fascinating example of a well-developed story where the author created a world in which humankind gained the ability to read thoughts. But not all of them are capable of it. Those who are not, are called Zeros and are outcasts.
Our heroine is Kira, a zero, who secretly loves Raf, a mindreader from her class. When he tries to kiss her she controls his mind and almost kills him. With the help of a friend (Simon) she starts learning how to control her new ability of mind-jacking and she quickly find out that she is not alone with this knowledge. And her world turns into lies to her family, to her friends, and to Raf.
The author delivered an excellent job constructing a very rich set of characters. The story flows at a quick pace and forces us to just want more.
Fortunately, the trilogy was completed by the time I finished reading the first book, so I could have the opportunity to proceed with the rest of the saga without having to eagerly wait.
I suggest this book to the permanent library of any science-fiction fan, as well as to any young adult that enjoys a very well written novel.
I bought this book from Amazon.com and was not requested to provide a positive book review. Opinions expressed here are my own.
Please leave a comment with your opinion.
[cta id='1962']