The Heir by Kiera Cass book review
The Heir by Kiera Cass
book review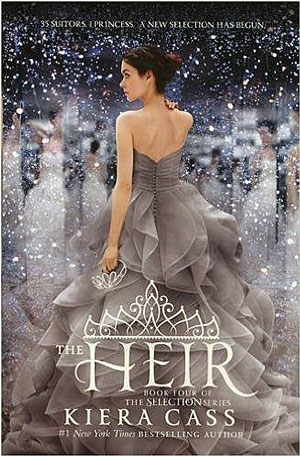 Enjoy the fourth romantic novel of Kiera Cass's #1 New York Times bestselling enchanting Selection series. A sequel to "happily-ever-after".
The Book
Follow Illéa's imperial family into a new Selection chapter and find out what happened 20 years after America Singer joined the Selection and won Prince Maxon's love.
Now it's time for Princess Eadlyn to take the Selection of her days. She doesn't expect the same fairy-tale love story that her parents faced.
However, as the contest begins, she may discover that finding her own happily ever after isn't as impossible as she's always believed.
A new age of swoon-worthy characters and captivating romance awaits in the fourth book of the Selection saga!
Some people won't expect to like Eadlyn as much as they liked America; We see many rejecting remarks about her all over the forums and reviews.
cultural relevance

entertainment

readability

Our personal rating
Author & Avg. Rating
Kiera Cass is an American writer distinguished for the Selection series. Read her mini-bio.
The Heir
The Selection
Fiction | Character | Growth | Intrigue | Romance Novel | Science Fiction | Dystopia | Young Adults
HarperTeen
Reprint edition (May 3, 2016)
kindle, hardcover, paperback, audible
384
mature kids and up

---
Review
In my case, that was not true. I found her very likable. It's accurate that there were a few occasions when I found her unfair and snobbish, but she's got good qualities that surely surpass that. A very strong character, indeed.
The fact that she, followed by a Big Brother camera,  has to worry about all that nobility protocol is enough to bring up our compassion.
And she keeps up to all her tasks and responsibilities, criticism and insult don't break her. Upon all, she still has time and guts to help run the country. Eadlyn is a character we can easily admire.
This novel was a great read. I enjoyed meeting characters from the previous books.
Act 1
18-year-old Eadlyn is the successor to the throne of Illea. Social discrimination controversy occurs, and there are still many riots.
Trigger
The princess reluctantly admits her participation in the Selection.
Act 2
She realizes the country dislikes her. After some unsuccessful attempts of conquering sympathy from the public, she decides to put more effort into winning the contest.
An unrestful disrupt occurs all over the land.
Baden also chooses to leave the Selection and accuses Eadlyn of selfishness.
She becomes jealous of Camille. Erik tells Eadlyn to be herself but confesses that he avoided the contest because he is inferior.
spoilers
CRISIS
Eadlyn suggests that Ahren should break up with Camille. Ahren decides to ignore her and runs away with Camille.
Act 3
He leaves her a note saying that she was pushing him too hard towards kinsmanship. He encourages her to be more kind and open.
CLIMAX
Eadlyn finds pictures of her parents' happy marriage.
Her mother dies out of discontent.
Act 4
Eadlyn realizes the importance of love and reveals that she will only marry someone when the Selection gets to the final.
[collapse]
Once again, I'm looking forward to reading the next volumes and seeing what will be the next developments in Princess Eadlyn's story.
[cta id='1972']