Thriving at College by Alex Chediak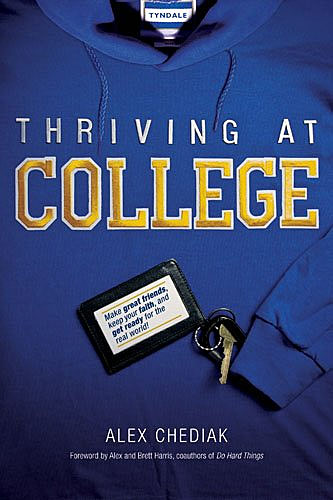 Thriving at College by Alex Chediak is the ideal gift for a university student or a prospective freshman; A companion to ease their journey.
The Book
Advancing to college can be anxiety inducing, exciting, and expensive! You want your kid to get the most out of their college period. What advice should you give?
Packed with useful tips and reason from an experienced college educator and student coach, Thriving at College covers the ten most frequent mistakes that new students make when going to college, pointing solutions to avoid them.
The author discusses every aspect; from picking a major and discovering one's profession to balancing study and entertainment, from making friends with students and teachers to helping peers figure out their own way in university.
Most importantly, this work will help students not only keep their confidence but build an energetic faith and become an example to God's principles.
The Author
Alex Chediak is a Ph.D. Professor of Engineering and Physics and educational writer from Chicago.
He enjoys writing to young adult audiences, to help students and young adults develop their God-given potential.
Alex and his family live in California.
The Review
I wish I had read Thriving at College before I started my academic life.
In many ways, the author tries to stress the importance of holding up to our faith. In a light and easily written style, Mr. Chediak shows, from a Christian perspective, which are the standard errors that a student should avoid when entering college life.
To succeed and live the best experience of their lives, while getting ready for the real world, students should follow some experimented advice.
The book is divided into four main sections:
College Matters
Relationships Matters
Character Matters
Academics Matter
On each of them, Alex goes deep in the analysis of common mistakes new students make. He gives guidance and suggestions to different approaches to overcome everyday situations. He speaks with the authority of being a professor and observing the struggle of his students on a daily basis.
When I read the book, my daughters were a fifteen and thirteen years old. The older one was just starting to talk about colleges and reading this book helped a lot.
The type of reason presented in this book can be applied not only to College situations but many other aspects of life, at any age, as well.
I recommend this book to any person that wants to keep their standards inspired by the Word of God. The work is a real asset to the permanent library of any serious reader.
The publishers were generous enough to send me a copy for an uncommitted book review through their blogger book review program.
Please, feel free to leave a comment about Thriving at College by Alex Chediak.
Thriving at College: Make Great Friends, Keep Your Faith, and Get Ready for the Real World!
Non-Fiction Education Christian
Tyndale House Publishers, Inc
(April 1, 2011)
kindle, paperback.
995
Alex Harris (Foreword, Contributor), Brett Harris (Foreword, Contributor)
mature teenagers and up

cultural relevance

entertainment

readability

Our personal rating