We Be Big by Rick Burgess
"We Be Big" by Rick Burgess is the real tragic-comic narrative of two Southern guys that brought together an unusual radio morning show.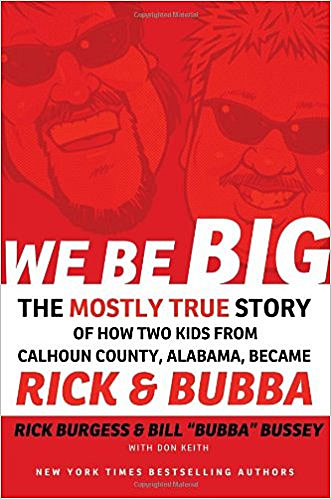 the Book
These guys are the most unusual broadcast players possible. Still, millions of faithful listeners never miss their daily morning show.
They don't sound like radio guys, don't play the latest hits, don't perform "shock jock" humor, celebrity birthdays, or horoscopes. Rather, Bill "Bubba" Bussey and Rick Burgess, performers of the nationwide popular "The Rick and Bubba Show", share real narratives about real people, requesting their massive public into their Rick Burgess and families to share moving events and uproarious happenings with which we can all connect.
Furthermore, these two unlikely radio personalities break the biggest no-no for traditional radio as they openly expose the strength that comes from their faith in Christ and their common-sense view of life.
Now, in the book We Be Big: The Mostly True Story of How We Became Rick & Bubba, the duo, along with best-selling author, Don Keith, share how this improbable association was created. Also, how the show reached higher rankings, as the two deliberately pointed away from every accepted paradigm in the radio business.
Ping-ponging from hilarious to heartbreaking, this is also a highly personal story of two guys who, like some of us, resisted crossing the doors prepared by God.
In this compelling narrative, they share their experiences and show how, with faith and family support, they became a blessed example.
The Authors
Bubba and Rick grew up in Alabama. During College, at Jacksonville State University, they became friends while working at WLJS-FM, that institution's radio station.
After leaving college, and then working for different radio stations, they formed a partnership at WQEN, they started escalating the ladder of success trying new ideas for shows.
Years later,  in early 1999, the "The Rick & Bubba Show" moved to WYSF. A transaction with Turner South Television gave the show a two-hour space until Fox Sports bought the TV network in February 2006.
It had been enough to raise the show's popularity to unprecedented levels in their careers. On January 3, 2007, they became the morning hosts on crosstown station WZZK.
Book Review
We Be Big is a very touching narrative telling the real story of two boys from Alabama, that following God's principles, created one of the most popular radio shows in America, the "Rick and Bubba Show".
Their story develops with each giving his testimonies in alternating chapters, telling in a very personal and informal way all about their experiences, frustrations, hopes, joys and sorrows.
Their ordinary daily life explains how they connect to the same ordinary people that compose their audience; A public directly linked with their narrative.
This simple formula and God's inspiration was the key to their success, despite all difficulties they had in their way to reach the top.
Every every doubt, every struggle, every battle, and every victory, they had during their journey are well detailed, and they give sound credit of their success to the Lord.
If you do not know them from before, you will get connected to these guys, "the two sexiest fat men alive", as they call themselves.
This book was the first work I read from them, and I will look for the other titles they had already published before.
I recommend this book to any reader looking for a very well-written and entertaining book with tons of comedy and tragedy.
The publishers were very kind to send me a copy for an uncompromised book review through their Thomas Nelson Book Review Bloggers Program.
Please, feel free to leave a comment about We Be Big by Rick Burgess.
cultural relevance

entertainment

readability

Our personal rating
We Be Big: The Mostly True Story of How Two Kids from Calhoun County, Alabama, Became Rick and Bubba
Non-Fiction Christian Autobiography
Thomas Nelson
March 21, 2011
kindle, paperback
240
Books and Movies: Reviews
Book "We Be Big" by Rick Burgess, Bill Bussey with Don Keith
Don Keith
Teenagers and up.