When the Soul Mends by Cindy Woodsmall
When the Soul Mends by Cindy Woodsmall
Back to the home she fled in shame, will Hannah heal the wounds of the past? Check out this third book of the Sisters of the Quilt series.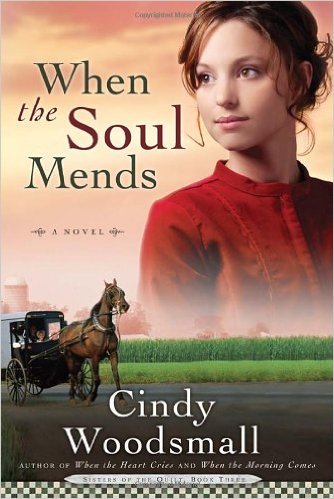 The Book
Following the income of a desperate and confusing call from her sister, Hannah Lapp reluctantly returns to the Old Amish community of her Pennsylvania youth.
Having left in disgrace more than two years earlier, she finally has settled into a satisfying position in the Englischer world. She also found affection and a new family with the wealthy Martin Palmer and his children.
However, almost immediately after her arrival in Owl's Perch, the disapproval of those who ostracized her, including her headstrong father, reopens past wounds.
As she meets again ex-fiancé Paul Waddell to work for her sister Sarah's mental health, buried truths surface about events during Hannah's absence. Moreover, she faces an agonizing decision.
Will she pick the Englischer life and the man who restored her hope, or will she accept the call to return to the Plain Life, and, maybe, her first love?
cultural relevance

entertainment

readability

Our personal rating
Author and Average Rating
Cindy Woodsmall is a New York Times best-selling writer whose connection with the Amish community has been featured on ABC Nightline and the first page of the Wall Street Journal.
Her first book was released in 2006 to much acclaim and became a best-seller.
Her second novel, When the Morning Comes, hit multiple best-sellers lists across the US and the next, When the Soul Mends, followed a similar path.
Her real-life connections with Amish Mennonite and Old Order Amish families enrich her novels with authenticity.
Cindy and her family live in Georgia.
When the Soul Mends
Sisters of the Quilt, Book 3
Fiction Romance Novel BooksCrier Christian Religious
WaterBrook
September 16, 2008
Kindle | Hardcover | Paperback | Audible | Mass Market Paperback
354
Books and Movies Review website transfer
http://booksandmoviesreviews.blogspot.com.br/2011/04/book-when-soul-mendsby-cindy-woodsmall.html
teenagers and up

Review
I didn't read the first two volumes of the series "Sisters of the Quilt", and that did not jeopardize at all the story. The development of the plot can hold by itself.
The writer has a sensitivity that is rare when dealing with emotions of her orthodox characters. This keen eye is presumably due to her in-depth knowledge of the Amish culture.
The plot is straightforward and simple.
Amish community virtually banishes a seventeen-year-old girl, wrongfully accusing her of breaking their traditions her.
She moves away to live with a relative and eventually finds a meaning for her life, looking after a couple of kids in custody of a kind man to with which she falls in love.
Some time later, she is called back to find out that her sister needs serious psychological assistance.
Dealing with the emotions of, once again, facing her father and the church leaders that had expelled her, she needs to confront this situation to provide her sister with the treatment required.
Furthermore, she meets a man that she once loved, and a new set of emotions emerge.
This book is a wonderfully well-written story, and we read the whole book hoping that our heroine will find her path in life. The writer shows that healing is a process and all the Christian subtle messages are well placed.
The publishers were very gracious to provide me a copy of the novel for an uncompromised book review through their Blogging for Books Program
If you liked this review, feel free to leave a comment with your thoughts.
[cta id='1965']