Golf for Dummies by Gary McCord
the Book

Don't know the difference between a lob wedge and a lemon wedge? Check out Golf for Dummies, by Gary McCord – a most colorful and knowledgeable character.
CBS commentator presents a wonderful, often hilarious, never boring introduction to the game.
Don't let the foreword by Kevin Costner or the afterword by Hootie and the Blowfish confuse the issue.
This is a terrifically sound, easy-to-follow primer.
McCord's potato-chip drill – yes, potato-chip drill–will revolutionize your swing. It will also improve your thinking. And bring overtones that could spill right into off-the-course existence, as well.
the Author
Gary Dennis McCord (05/23/1948) is an American professional golfer, commentator, author, and actor.
McCord was born in San Gabriel, California and raised in southern California.
He was a two-time Division II All-American at UC Riverside. He won the NCAA Division II individual championship in 1970.  McCord turned professional in 1971.
McCord's best two finishes on the PGA Tour were at the Greater Milwaukee Open. He placed second in both 1975 and 1977.
During his years on the PGA Tour, he had almost two dozen top-10 finishes.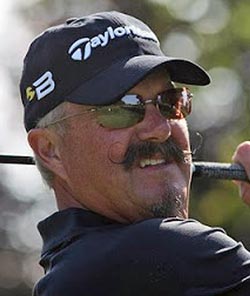 He credits Brad Britton for showing him the secrets of the golfing swing and, in particular, the mental game.
At age 37 in 1986, McCord joined CBS Sports as a golf analyst, a capacity in which he still serves.
He is recognized for his outspokenness. That has caused some minor trouble in his TV career. At the same time, it seems to be his connection with the public.
Aside from his CBS commentary duties, McCord also plays on the Champions Tour.
McCord has also written two books, Just a Range Ball in a Box of Titleists and Golf for Dummies.
In 1996, he appeared as himself in the Kevin Costner movie Tin Cup.
He and Peter Kostis are partners in the Kostis/McCord Learning Center in Scottsdale, Arizona.
He is also a co-announcer on the EA Sports' Tiger Woods PGA Tour series along with David Feherty.
Review
I received my first golf clubs as a gift from my dearest friend Alexey. He patiently tried to make me learn how to play golf.
In order not to disappoint him, I tried to improve my swing. This book was a big factor, contributing with detailed description and photos on how to swing.
The style of the author makes this book an easy reading. His humor is appropriate under the circumstances.
He first suggests which golf clubs are appropriate for you and what else you need to play this game.
He mentions the importance of being in shape, where to play, how to swing and improve your move. He also talks about other secrets that will ease you way through learning and playing.
This is an outstanding result as an to introduce the most important topics for beginners in this game.
The book was published Dummies in March 2011.
I recommend this book for adults, teenagers, and kids that are serious about learning and improving in golf.  Its is also a curious way to face new facts, stories, and history of this fantastic game.
Amazon was kind enough to provide this work for an uncompromised book review through their Vine Program.
cultural relevance

entertainment

readability

Our personal rating
Summary
Master tips for developing your play skills in golfing!
Get on track
Choose your armament
Get into the motion
Conquest the field
Boost you mind
We appreciate your opinion, please, leave a comment!
[cta id='1972′]