Harold Myra's The One Year Book of Encouragement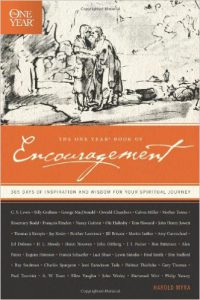 Harold Myra's The One Year Book of Encouragement a fantastic and inspiring daily devotional book. Learn about all-time Christian thinkers.
The One Year Book of Encouragement: the Book
This work is a compilation of ideas from different notable Christian authors that will help draw encouragement every day from classic wisdom.
Stories of figures like Mother Teresa, C. S. Lewis, Martin Luther, etc. will show how extraordinary a unique soul can be in face of common troubles.
Myra attempts to grant encouragement to devotees, a goal to be tried by all of us. After all, who doesn't want encouragement to press on in the face of daunting obstacles?
The One Year Book of Encouragement: The Author
For 32 years, Harold Myra served as the CEO of Christianity Today International, an organization that, under his leadership, grew from one magazine to a communications conglomerate.
He is the author of numerous novels, children's and nonfiction books, and magazine articles. The writer is also a writing and publishing teacher and holds several honorary doctorates.
Myra has been granted several awards for his triple career as an editor, author, and publishing executive.
He lives with his family in Wheaton, Illinois.
The One Year Book of Encouragement: Book Review
This is not just another daily prayer book or devotional book. It is much more than that. This is a fantastic book that inspires you and feeds you with courage for living a better day.
The author uses citations, thoughts, and hopes from famous, or not as much, Christians and, on top of that,  develops his personal views on the "topic of the day".
After that, there is a prayer related to point and a verse from the Scriptures that nails the whole reading down to what the Bible says!
The work is very inspirational, and I suggest it to everyone that wants to reflect seriously on their faith and lives.
The publishers very kind enough to send me a copy, for an uncompromised book review, through their blogger book review program.
Recommended for Adults, Teenagers, and mature Kids.
Please. leave a comment about Harold Myra's The One Year Book of Encouragement.
cultural relevance

entertainment

readability

Our personal rating
The One Year Book of Encouragement: 365 Days of Inspiration and Wisdom for Your Spiritual Journey
Non-Fiction Religious Christian
yndale House Publishers
September 1st 2010
kindle, paperback
384
Books and Movies Review website transfer
http://booksandmoviesreviews.blogspot.com.br/2010/09/book-one-year-book-of-encouragement-by.html
mature kids and up.