The Shining by Stephen King book review
The Shining by Stephen King book review: A must-read that inspired Kubrick's brilliant film is a literary masterpiece of the horror genre.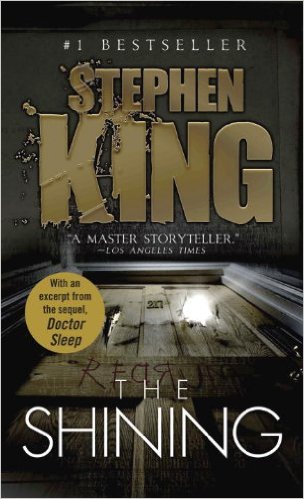 The film was one of the most frightening entertainment pieces I had ever experienced… until I read the book!
The Book
In The Shining by Stephen King, Jack Torrance's new job at the Overlook Hotel is the perfect chance for a fresh start.
As the off-season caretaker at the atmospheric old hotel, he'll have plenty of time to spend reconnecting with his family and working on his writing.
But as the harsh winter weather sets in, the idyllic location feels ever more remote . . . and more sinister.
And the only one to notice the strange and terrible forces gathering around the Overlook is Danny Torrance, a uniquely gifted five-year-old.
The mother of all mountain resort horror stories is a tribute to the king of popular literature, a man that most certainly knows everything about creative writing.
The Author
Stephen King is the author of more than fifty books, all of them worldwide bestsellers, of which, a great portion deals with horror, or with unusual and strange situations.
His novel 11/22/63 was named a top ten book of 2011 by The New York Times Book Review and won the Los Angeles Times Book Prize for Mystery/Thriller as well as the Best Hardcover Book Award from the International Thriller Writers Association.
His recent work includes The Bill Hodges Trilogy, Revival, and Doctor Sleep.
The Review
spoilers
Main Character = Danny
Impact Character = Jack
Protagonist = Jack and Danny
Antagonist = The Hotel; Derwent
Guardian = Halloran, Wendy, Tony
Co-Antagonist = Delbert and Family, the woman in room 217, other apparitions.
Sidekick = Danny
Skeptic = The Therapist, Danny's parents (a bit)
Reason = Danny
Emotion = Jack, Wendy, Jack's father
[collapse]
Act 1
The Shining by Stephen King begins with The Overlook's hotel manager, Ullman, interviewing Jack Torrance for the caretaker's job at the resort during winter close down. Ullman is concerned about Jack and his family's isolation and his known temper and previous drinking problems.
Also, the hotel has had its share of violence after a family murder, and a suspicious suicide occurred in the past.
Torrance, impatiently assures that not problems will happen and Ullman, based on a strong indication, but, yet, doubtfully, hires the former teacher.
In the meantime, mother and son are waiting for Jack. Both are worried about Jack. Wendy worries about the potentially violent relationship between father and son. Danny worries about his parents' marriage.
Jack visits the hotel's boiler room. He must check the furnace frequently while there, to prevent it from exploding the entire hotel.
Danny Torrance seems to be a case of schizophrenia, with unreal sinister visions.
The Torrances arrive at the Overlook.
Trigger
Halloran recognizes that Danny can read minds, an ability called "shining" and that unreal bad things happen at the Overlook that only "shining" can see. He must also keep away from a particular room in the resort.
Act 2
Danny starts seeing strange things.
Jack recalls his abusive father and worries about his temper, about breaking Danny's arm, and of the incident with George Hatfield.
Danny goes into some trance and the parents take him to a psychiatrist. He tells them that the visions are a way of Danny dealing with all the new stress.
Jack learns that Derwent, the first hotel owner, has organized crime connections and imagines a book about it.
Old memories of family violence haunt Jack and also starts to see things.
That night the snow begins, they get isolated and even stranger events escalate into insane madness.
spoilers
Despite Halloran's warning, Danny decides to go inside Room 217, where he faces a horrifying event.
A voice from his late father's ordering Jack to kill his family.
Danny is bruised and in bad shape.
Wendy instantly suspects Jack and locks herself in the bedroom with Danny.
Danny wakes up and tells his parents about the woman in 217.
Jack runs to the room and doesn't see the lady, but he hears her.
Jack spoils Wendy's attempt to have him take Dany to the doctor again
While in the playground, Danny faces more disturbing occurrences.
Jack doesn't believe Danny, but the boy suspects his father is also seen things. The boy nearly says so, but Jack hits him.
That night the elevator starts moving on its own.
After another mystic episode, Danny tries to, mentally, call Halloran for help.
A dogman, with a bloody face, threatens Danny.
A somewhat supernatural bartender serves Jack all the martinis he can drink while in a peculiar party, where he, again, teases Jack into killing his family.
Jack has a vision of killing Danny with a mallet and passes out while trying to drink more.
Wendy wakes him up, he threatens her.
Danny arrives and begs them to stop.
Jack starts choking Wendy, and she strikes him on the head with a bottle.
Wendy and Danny take him to the kitchen and lock him in the pantry.
Jack is making all this noise to get out of the pantry, issuing offensive warnings in a continuous stream.
Almost two hours later, when the sounds stop, Wendy and Danny wonder if he is on the lose.
They overhear the elevator start moving by itself, as the Overlook hotel appears to become alive.
Jack wants to punish Danny and Wendy for their betrayal and is induced to think he understands his late violent father.
Jack seems to interact more and more with tempting ghostly figures.
Jack finds Wendy and hits her in the stomach with the mallet. They struggle and after piercing the knife into his lower back, she races her upstairs with him on her tail.
Halloran makes it to The Overlook, and the topiary lions begin attacking him.
A man with a green ghoul mask scares and distracts Wendy, allowing Jack to hit her.
She crawls her way into the quarter's bathroom and locks the door. When Jack breaks through, with the mallet, she slashes him with a scissor.
Jack goes out after hearing Halloran's noise.
Crisis
Wendy collapses on a mattress.
Halloran runs into the hotel and calls for Danny.
Jack hits him hard with the mallet and goes upstairs to chase after Danny.
Danny sees another vision, him in the future and. He tries to run away from Jack.
He gets trapped in a corridor when Jack comes upon him.
Mid-Point
Danny knows that the Overlook is controlling Jack.
[collapse]
Act 3
spoilers
However, Danny faithfully believes that a little piece of his beloved father is still there.
[collapse]
CLIMAX
spoilers
Jack tells his son that he loves him; Danny must run away and save himself.
Danny refuses and kisses Jack's hand. Wendy finds Halloran and tries to wake him.
Danny discerns Jack hasn't been losing the pressure in the boiler, and he tells him.
The Jack panics and rushes to take care of the boiler pressure.
Danny looks for Wendy and Halloran so they can escape before the boiler explodes.
Moments after Jack gets down to the basement, the boiler explodes.
Halloran, Wendy, and Danny flee from out of the Overlook.
The Overlook tries to subdue Halloran into killing Danny, but he resists and the three escape.
[collapse]
Act 4
spoilers
The story ends the following summer when the three are at the Maine resort where Halloran works. Wendy and Danny are moving to Maryland. Wendy and Halloran are sitting on either side of Danny while he fishes in a bucolic scene.
[collapse]
Please leave a comment with your opinion about The Shining by Stephen King.
The Shining
The Shining #1
Classic | Horror | Thriller
Anchor; Reissue edition (June 26, 2012)
first published in 1977
kindle, library binding, paperback, audible, mass market paperback
688
teenagers and adults, maybe mature kids as well.

---
cultural relevance

entertainment

readability

Our personal rating
[cta id='1972']