Voices of the Faithful by Beth Moore Book Review Article
Voices of the Faithful by Beth Moore is a compilation of short articles written by Western Christian missionaries located around the world.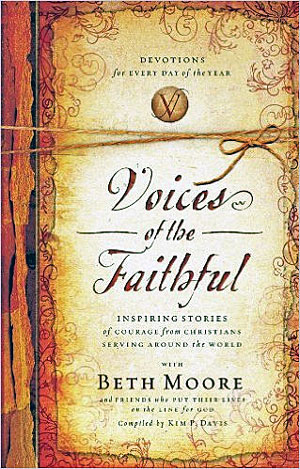 the Book
"An eagerness to go is all they hold in common," says Beth Moore, when talking about her friends on the frontal lines.
They who proclaim the scriptures worldwide and with whom she collaborated to organize this work.
Written by hundreds of missionaries around the world, Voices of the Faithful by Beth Moore, a beautiful 366-day devotional, highlights incredible stories of God's care in the face of doubt and crisis.
With an introduction by International Mission Board leader, Jerry Rankin, and a preface by Beth, this book also includes information on how to detect God's voice, pray for pastors, and understand the church's, and individuals', parts in missions.
Voices of the Faithful by Beth Moore: a work not to be missed.
The Author
Beth Moore wrote many best-selling works, is a charismatic teacher and a prolific Christianity-author. Her public speeches take her across the nation to question and stimulate crowds.
Living in Texas with her family of two daughters, Beth is centered on guiding women and is respected all over.
---
Review
Voices of the Faithful by Beth Moore is not just another devotional. It is a superb compilation of personal accounts from Christians working as preachers from all over the world.
366-day stories divide the structure, and they expect that you follow one story per day during a full year.
However, the narratives are so great and moving that you always want to read further more. It's a temptation you just can't avoid.
One particular story that deeply touched me was the "We All Scream for Ice Cream!". The narrative describes how we should depend completely on God. If we trust in him, he will provide all our needs. Most of the time what we need comes as a direct answer to a prayer.
The publishers kindly sent me a copy, for an uncompromised book review through their Thomas Nelson Book Review Bloggers Program.
Recommended for Adults and Teenagers.
Please leave a comment with your thoughts about Voices of the Faithful by Beth Moore.
cultural relevance

entertainment

readability

Our personal rating
Voices of the Faithful by Beth Moore: Inspiring Stories of Courage from Christians Serving Around the World
Adults Non-Fiction Inspirational Religious Christian Faith Young Adults
Thomas Nelson
December 27, 2010
kindle, hardcover, paperback, audible
480
Books and Movies: Reviews
Teenagers and up.