Safely Home by Randy Alcorn review
Safely Home by Randy Alcorn is the story of the Chinese persecution of Christians and the conversion of a selfish man in a better person.
cultural relevance

entertainment

readability

reviewer's personal rating
Summary
This book is a well-written piece of Christian fiction.
The Book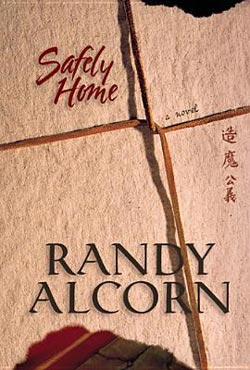 Li Quan wonders about the day of his imminent death every day. It can happen anytime in China.
Ben Fielding, an American businessman, has no clue about what his brilliant old college buddy is facing in communist China.
He wonders if his old roommate has achieved his dream of reaching a university professor status. However, when, after twenty years, they reunite in China, both are shocked with mutual discoveries.
Together in a moment of infringing darkness, they must decide what will determine their destiny and the future of two worlds.
The Author
Randy Alcorn is the founder and director of a nonprofit organization dedicated to teaching biblical truth and helping people in need.
Before that Alcorn was co-pastor for thirteen years at Good Shepherd Community Church outside Gresham, Oregon and also in many countries, including China.
He is also a favorite faculty teacher and spokesman, usually conferencing about the needy.
Randy is the author of over 40 books.
Among his work are:
Heaven.
The Treasure Principle
Safely Home, 

a 2002 Gold Medallion winner

.
He wrote numerous articles for magazines like:
Discipleship Journal
Moody
Leadership
New Man
The Christian Reader.
He also edits Eternal Perspectives magazine and was a guest on over 650 radio and TV programs.
Alcorn lives with his family in Gresham, Oregon.
Review
This book, written by Randy Alcorn in 2011, is an excellent presentation of a touching story about two friends, Li Quan, and Ben Fielding,
The two used to live as roommates while in college before they were departed to follow their paths.
After twenty years they met each other again. Both got shocked with what had come with each other.
While in college Ben Fielding used to take Li Quan to the church.
Now Ben forgot has drifted away from religion and has embraced a working man's obsession.
Li Quan, on his side, towards the traditional Chinese beliefs of his family and gave up his former academic dreams, including evangelizing in China.
The author reveals us all the secrets of the oppression that occurs in China for people that try to preach Christianity.
We follow all the afflictions of Li Quan and his family and the reawakening of Ben to his religion while witnessing everything that Li Quan is enduring in China.
This book is excellent. It is finely written, easy to read, and keeps us hungry for the last page.
Every serious reader that likes Christian fiction should get a hold of this one for their library.
Tyndale House Publishers has provided us with one piece for an uncompromised review.
Feel free to leave your valuable comment anytime.
[cta id='1965′]