Harry Potter and the Sorcerer's Stone book review
Harry Potter and the Sorcerer's Stone

Book Review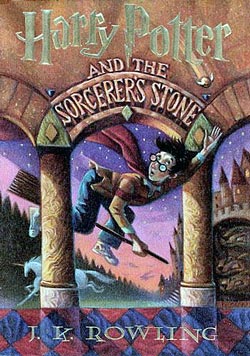 The first novel in the saga of a wizard boy that has to face his past and future to grow up in the most fantastic school ever. Check it out!
The Book
Amazingly, Harry Potter
discovers that he is, in fact, a wizard and goes to the magical school of Hogwarts to investigate the mysteries about an evil sorcerer and a mystic gem.
An amazing start in a saga that grown up in complexity along with its target readers. Characters, plot and quality of vocabulary and style also accompany that growth.
The author, J. K. Rowling shows an amazing eye for the issues that trouble a kid growing as a teenager in a fantasy world has has too much in common with our reality.
The word "Philosopher's" was in the original title published in 1997 by Bloomsbury in England. After that, Scholastic Corporation changed it for "Sorcerer's" for the American version in 1998.
J. K. Rowling won several awards with this first Harry Potter book. This title was translated into 67 languages and adapted for the screen with great success.
Harry Potter is a typical orphan boy from a standard English suburban area. He lives with his mean relatives.
Out of the blue, mysterious and quite unusual letters start to arrive stubbornly, and his life is turned upside down… or, maybe… downside up…
He discovers he is, actually, a wizard that was almost killed with his parents by a sinister and dangerous Lord when he was just a baby.
Now he has to attend  Hogwarts School of Witchcraft and Wizardry to train his skills.
cultural relevance

entertainment

readability

Our personal rating
Structure
The Author
"Jo" Rowling was born on 31 July 1965. She is a British novelist, screenwriter, and film producer.
Her most famous works are the books composing the Harry Potter fantasy saga. (read the mini-bio)
Harry Potter and the Philosopher's Stone
Fantasy Adventure for children
Scholastic
First: 1997
kindle, hardcover, paperback, audible
309
9-12, but, actually, all ages.

---
Our Review
This first book is a perfect introduction to the series that mostly takes place in the wizarding world of Hogwarts.
The story puts us on the tail of Harry Potter, a young sorcerer that finds out about his heritage in magic.
In his first year at Hogwarts, he becomes best friends with Ron and Hermione and steps on the feet of a few enemies as well.
The bunch of friends discovers a plot for the comeback of the dark wizard Lord Voldemort, Harry's parent's assassin. The villain had tried to kill baby Harry too but failed. Now Harry will have to face many dangers to untangle the mysteries that come ahead.
This book is very imaginative. The author entertains us with lots of pure humor. Her style id direct and the narrative is very well constructed.
Rowling seems to follow Voegler's 12 step dramatic structure by heart.
The writing is very straightforward and pleasant to read while she still tries to infiltrate some refined vocabulary here and there.
Hints of classic English and Greek influence are spread all over this ancient celt-nordic folklore based tale.
Modern moral issues are discussed in a magical 19th-century boarding school environment.
Harry Potter and the Philosopher's Stone talks about many important matters like
self-sacrifice
decisions shaping who we are
loyalty
friendship
courage
wisdom
4-act sequence:
Harry Potter and Family
Harry finds learns about Hogwarts and faces mysteries and obstacles
Harry and friends find out about the stone and the one who wants to steal it.
Last Combat and Final Conclusions
Protagonist: Harry Potter
Antagonist: Voldemort
Main Character: Harry Potter
Impact Character: Dumbledore
Guardians: Dumbledore, Hagrid
Co-Antagonists: Quirrell, Snape, Malfoy, Filch
Sidekicks: Hermione, Ron, McGonagall
Skeptics: Snape, Malfoy, Hagrid, Petunia, Vernon, Filch
Emotion: Ron, Hermione, Neville, Weasley Family
Reason: Hermione, McGonagall
Please leave a message with your opinion.
[cta id='2293']