The Best Fantasy Books series list
The Best Fantasy Books series list will give you some suggestions based on our preferences, and, also, on a popular and scholar analysis.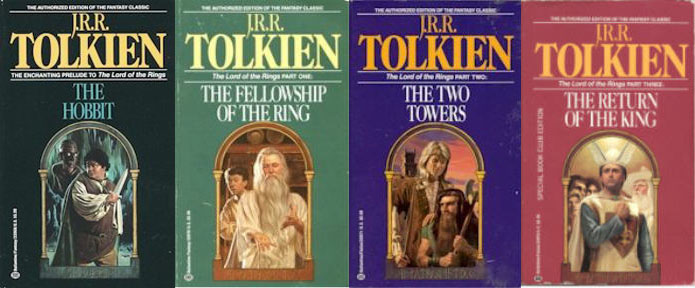 People think that Fantasy is a genre that deals only with magical realms of wizards, elves, dwarves and such. That would limit the concept a bit. Dystopian worlds and fantastic historical tales also deal with the fantastic to bring us great reading pleasure.
Let's check a few ou preferred Best Fantasy Books series that have pleased us so far.
The author built the world of Middle Earth with a rich history and language, showcasing a mythicism that always spoke of more beyond the fantasy written;  A nobility in the form of small-sized heroes that fight for good against evil and influenced every fantasy writer after that. Our rating: 5
An orphaned boy hurried away to an enchanting world is one of the most beloved and admired book franchises of all time. This coming-of-age seven-novel story is so magnificently developed to mirror our most important virtues and flaws. Harry Potter earned its place alongside the giants of the fantasy genre. Our rating:4.9/5
A Song of Ice and Fire by George R. R. Martin
Epic and quaint, Middle Earth is the playing board for many different and charismatic pieces in The Game of  Thrones game. Struggling for power, survival or revenge, the characters of the seven kingdoms of Westeros and the free cities live a Machiavellian saga of love, hate, brutality, control and power that makes us crave for every new page and book. Our rating: 4.8
Chronicles of Narnia by C. S. Lewis
Lewis and Tolkien were ink-pals. No wonder that their two major works feel so complementary. Lewis' series is an epic and heraldic magical tale of extraordinary moments with a timeless sense of remorse, a constant reminder that all things are not permanent. Our rating: 4.8
Outlander series by Diana Gabaldon
The Outlander focuses on 20th-century British nurse Claire Randall, who time travels to 18th-century Scotland and finds adventure and romance with the brave Highlander, Jamie Fraser. Our rating 4.7
Hunger Games by Suzanne Collins
In a dystopian future America, teenagers gladiators fight to the death to supposedly avoid war and maintain the status quo of an oppressive, fascist, and populist central government. Some people are not very happy about this. Our rating 4.6
The Dresden Files by Jim Butcher
Thrilling detective fiction set in Chicago with a wizard cast as a private investigator. It is "Phillip Marlowe, the Vampire Slayer" in books. Our rating: 4.6
The Dark Tower by Stephen King
Very unlikely as a Best Fantasy Books series, from the master of horror comes an unusual, yet highly appealing, masterfully blended old-west dark fantasy across eight tales. Our rating: 4.5
The Avalon Series by Marion Zimmer Bradley
This book series tells the familiar tale of King Arthur's legend, from a woman's point of view. Our rating 4.4
Divergent by Veronica Roth
One choice can transform you. One choice can destroy you. One choice will define you. This series is a gripping dystopian tale of insurgency against a deeply flawed "perfect society". Our rating 4.3
Please leave a comment about this The Best Fantasy Books series list. Suggestions would be highly appreciated.